Spruce up your home for party season
In the run-up to Christmas party season you'll want your home looking fabulous so we invited interior stylist and author Emma Blomfield to make over our Marrick & Co sales office and share her clever design tips. In our second series of Shelf Life, Emma offers a masterclass in how to create a beautifully composed shelf that will give a lift to any home.
Emma's artful display offers inspiration (and some great Christmas gift ideas) for future residents at Marrick & Co, where metal and ply shelving has been integrated into the design so you can personalise your home with treasured objects and mementos.
We gave the author of "Home. The Elements of Decorating", total creative freedom as long as the products were sourced from the inner west. Not only did Emma discover a treasure trove of beautiful objects but a warm and generous community of crafters and retailers happy to share their wares.
---
Where to begin
Choose a colour and then build other colours and stories around it. Emma started with pink, a colour she loves (as her book cover attests), and then introduced a bit of blue, white, black and copper, mixing different heights and styles, some tall, some short, and a variety of textures, smooth, shiny, rough.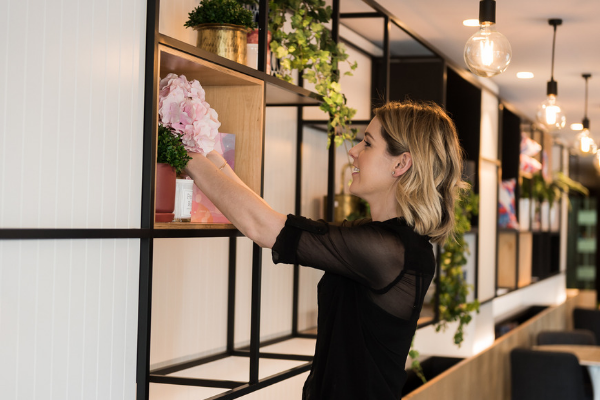 ---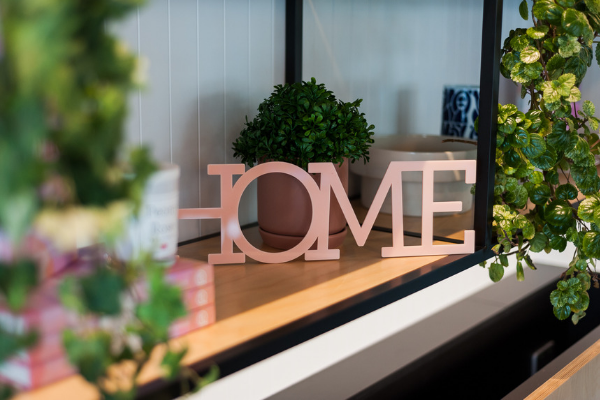 Know your style
Your home is the ultimate creative expression of who you are so Emma's best advice is to forget trends and go with things you love. And for those aren't sure what they like her E-Decorating service is the cleverest idea ever. With photos of the room and a floorplan, she'll map out a design and create a shopping guide that will see you winning the style stakes.
---
Keep it fresh
Once you've styled your home to perfection, that's no excuse to rest on your laurels. Emma suggests changing things around every couple of months or with each change of season, adding new pieces to the display to keep it fresh and interesting. Sounds like a good excuse to shop.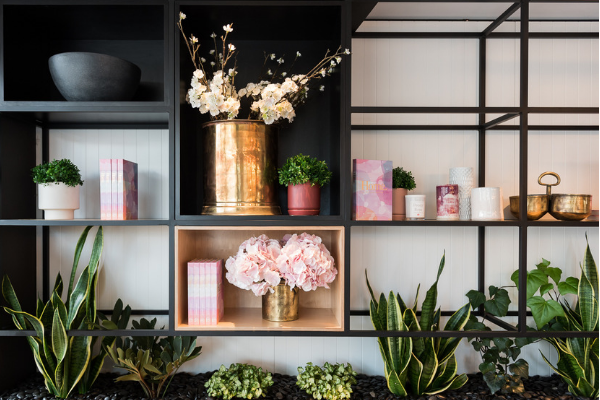 ---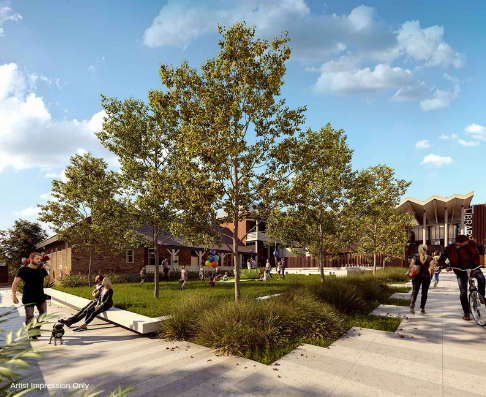 One Planet, lots of local shops
As the first large scale One Planet Living community in NSW, Marrick & Co is committed to making a positive contribution to the local economy and that means supporting the creative businesses that abound in the inner west. Emma turned our shelves into a work of art with product from these fabulous local stores.
---
Shibori
The gorgeous hand-dyed cushions and hide are created by Pepa Martin and Karen Davis, founders of the boutique fabric house Shibori, using the traditional Japanese shibori method. They not only retail from their Stanmore showroom but conduct workshops as well. Love their work.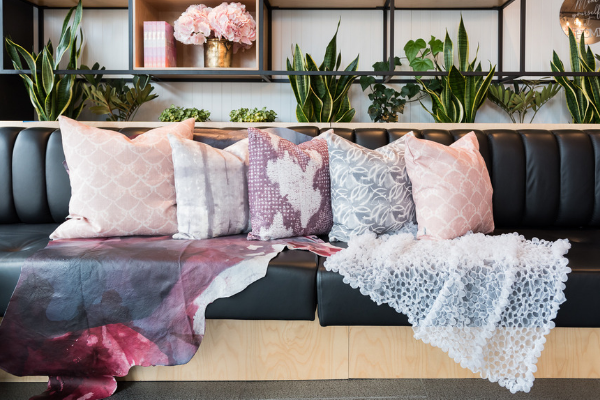 ---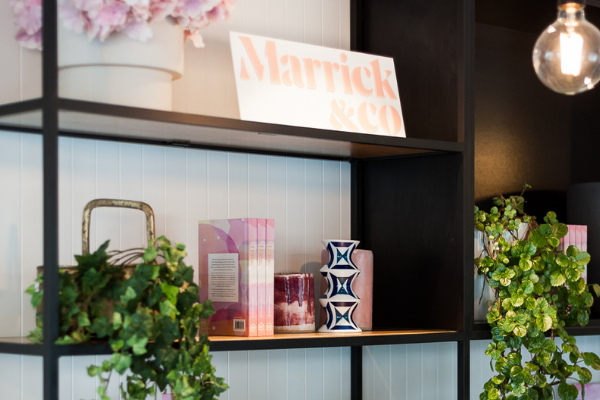 Riiko Ceramics
This family run retailer in Marrickville is the sole supplier of tableware and collectables by the Spanish company Sargadelos, a brand they fell in love with on a trip to Spain. Here Emma has used a vibrant blue vase and white coffee cups to give a burst of colour and form.
---
Design Twins
The pretty pink ceramic pots on the shelves hail from the Design Twins store in St Peters' creative hub Precinct 75. It's no surprise that founders Crystal Bailey and Mitchell Lindsay have expanded their empire to LA and Byron Bay, a boon for the many makers whose art, homewares, furniture and linen they stock.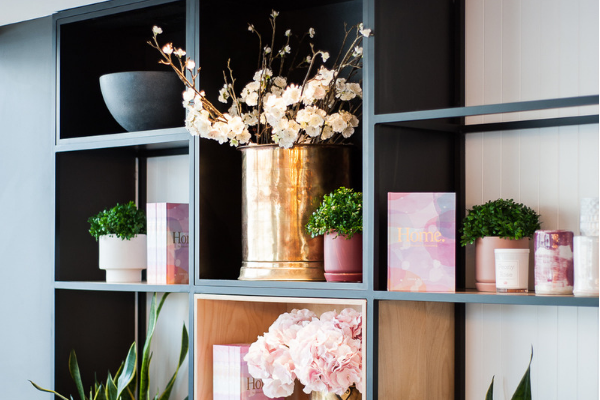 ---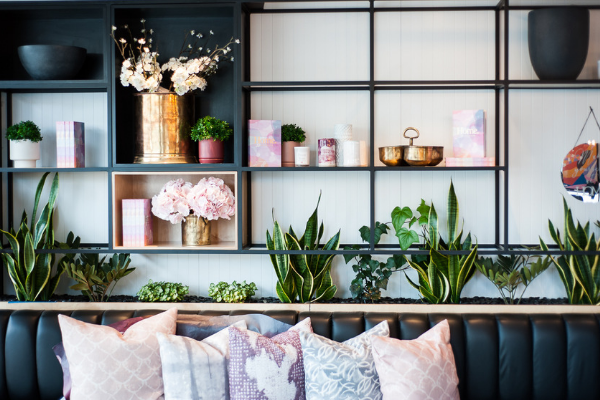 Garden Life
Large charcoal and copper pots and planters from Garden Life lend depth and character to our shelf display, a counterpoint to the pretty pink. Garden Life founder Richard Unsworth travels the world sourcing unique objects that would look good in any garden – or shelf.
---
Communicake It
This great little Marrickville design company started life as a genius idea by Bianca Medati to design and make a special message for a friend's birthday cake. Inspired by the joyful reaction Bianca launched Communicake It, taking the range beyond cake toppers into weddings, parties, anywhere in the house and home. We love the bespoke Marrick & Co sign now sitting proudly on our shelf.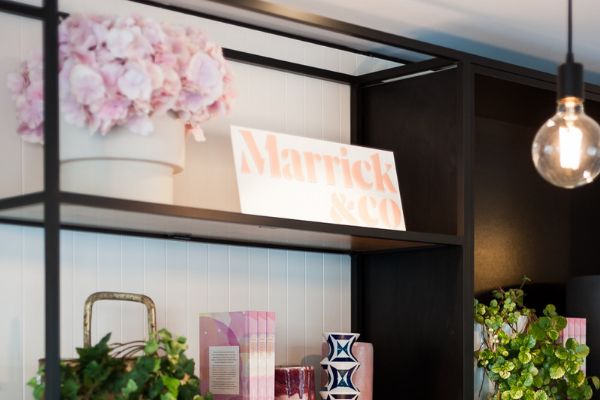 ---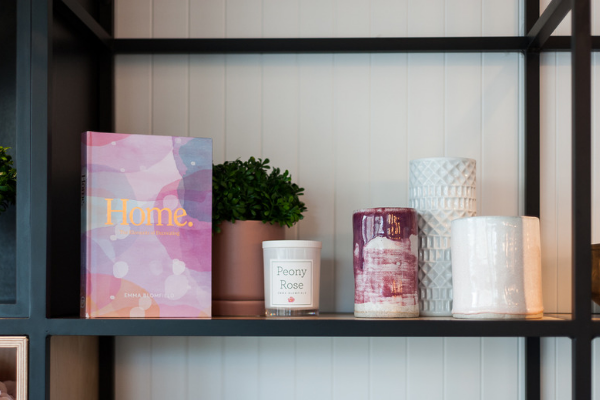 Home. The Elements of Decorating
We have five copies of Emma's first book, "Home. The Elements of Decorating", to give away. Within its pages you'll find practical advice and tips that will give you the confidence to express your own personal style with confidence. You can discover more about Emma here.
---